Cinco de Mayo Party Ideas, Dollar Store Birthday
We have a super special party to show you today, our son's 3rd birthday! We had this little gathering at our neighborhood park, and since it was the 5th of May what better theme than Cinco de Mayo? We challenged ourselves not to go overboard with the decoration buget, which makes this party unique in that almost everything we used (with the exception of the food) came from a dollar or discount store. Using ribbon, kraft paper, tissue paper and plastic and aluminum serving pieces we were able to pull off something cute but festive.
Our first DIY project was a Fringed Tissue Paper Garland. We got the idea from our favorite source, Oh Happy Day. On her site, Jordan shows you how to make something similar but with a pattern cut out. We were pressed for time this go round so we opted for a fringed look instead that was less time consuming and more get it done in an hour. For a complete tutorial on how to create your own Tissue Paper Garland visit her post here. This project cost us about $4. We already had some of the tissue paper and the glue and yarn. We bought a few extra colors of tissue paper and colored cellophane from the Dollar Tree, and we had plenty left over for our pinata.
Also from the Dollar Tree we found some really cute aluminum trays, they add some fancy, and at $1 each who can argue with that? Our sombreros also came from Dollar Tree, a fun little touch that our guests enjoyed as well.
Since we were at a city park here in town, there were already tables and seating to use, but we chose to cover them with kraft paper just to give everything a clean surface and blank slate to work with design wise.
Just about everything on this table came from Dollar Tree! The salsa bowls (2 for $1), chip bowls, kraft paper, ribbon, cutlery, clear plastic cups and foam trays (not pictured) were all purchased there as well.
We found some really cute paper flags from a discounted Martha Stewart scrapbooking lot at Big Lots (You thought I was going to say Dollar Tree didn't you?) and paired them with some straws we already had on hand from a trip to IKEA about a year ago.
Our next DIY project was a Ribbon Cake Stand Skirt. We wanted the colors to be bright and match the tissue garland we already made, and luckily we had ALL of them already. If you were to purchase them however, we got the ribbon from…drum roll please…Dollar Tree, and it would cost about $6, or $1 per color. We took one long piece of ribbon and measured it to fit the circumference of our stand. We then cut the other ribbons to match the length from the lip of the stand to the base of the stand, gave them a fancy little v-cut, and glued them onto the back of our first piece of ribbon. We secured it with double sided tape, nothing permanent, since we wanted to re-use our stand again in the future without the ribbons. Voila! Instant color and fancy-ness.
Our third DIY project was this Number Pinata. We got the tutorial from Oh Happy Day once again. Using a box we had already in our attic, and the left-over tissue paper from our garland, and a lot of Elmer's Glue + Packing Tape, we were able to create this pinata for less than $4. (We are including that price to show that we shared the budget for the pinata and garland tissue paper.) The only deviation we had from Jordan's pinata, is that we chose not to fringe the entire thing. We opted for a paper mache effect on the back and kept the fringe to the front. Paper mache with tissue paper can be a little tricky sometimes. You generally want to brush on your glue + water mixture first, then apply the paper, and brush over it again gently. This will dry super fast though since the tissue paper is so thin. Pinatas do take some time to complete, this one was about a 5 hour job all said and done. We popped on Rob Roy though, so I may have been slightly distracted by all the Liam Neeson and Jessica Lange awesomeness.
Here is our son enjoying his Pinata!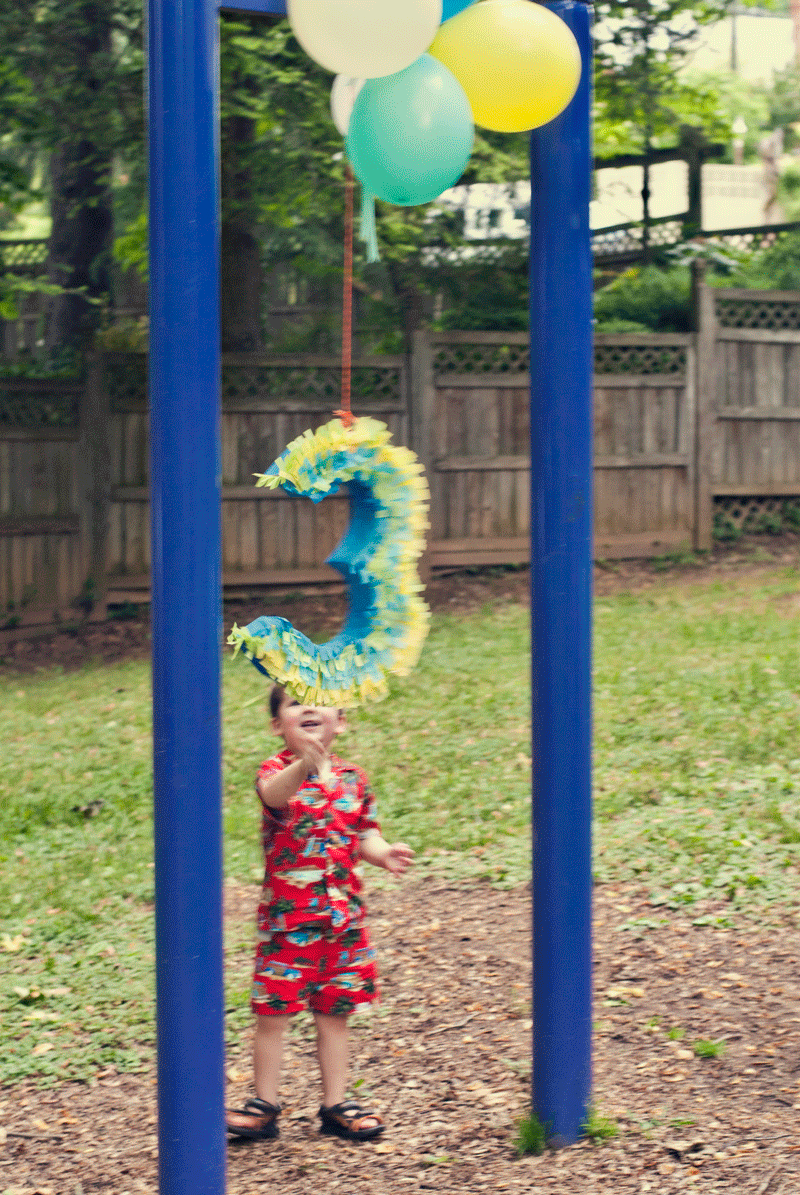 A break-down of our exact cost for everything non-edible:
Dollar Store: ($1 each)
Tissue Paper & Cellophane - $7 - cost split between the DIY Garland and DIY Pinata
Kraft Paper - $2 - to cover the tables
Ribbon - $6 - for the DIY Cake Stand Skirt
Cutlery, Plates, Cups - $8
Salsa Bowls & Chip Bowls - $4 (2 for $1 on the salsa bowls, we had four total)
Aluminum Trays - $5
Pinata Candy - $4
Big Lots:
Paper Flags - $1.50
IKEA:
Straws - $1.50
Total: $41.95 with tax
We hope this party shows you how just a few simple decorative touches can really add flair to your party without going way overboard on a budget. With our food costs added, I'd say we spent right around $100 total including tax. Which is not too shabby considering we had about 20 guests, who all ate, and we had food left over!