Photography by Brooke Mayo, www.brookemayo.com
Sunshine, lollipops and rainbows… Go ahead, watch the video clip below and try not to get the song stuck in your head for like 2 weeks straight.
If you didn't, congratulations, you don't have a pulse! If you did, then you are in the same boat as us. Judging by Ms. Poppy Day's reaction to her fantabulous "Rainbows and Candy Land" 2nd birthday party, we wouldn't have it any other way.
Read all about her party details on her Mommy's blog at Brooke Mayo Photographers.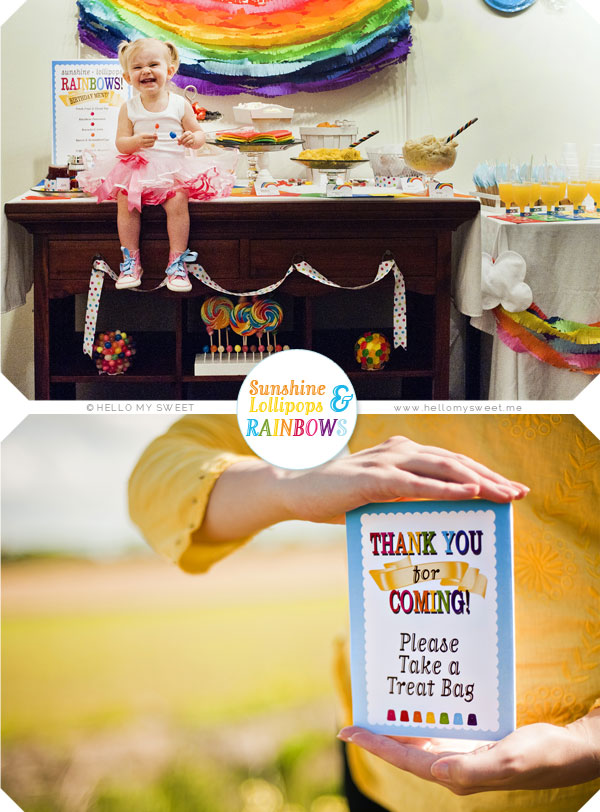 Photography by Brooke Mayo, www.brookemayo.com
As I write these blog posts, I'm constantly amazed by what Microsoft Word will and will not flag as incorrect grammar and/or misspelled words. I was totally ready for it to flag "fantabulous" as an incorrectly spelled word. I even had Urban Dictionary's definition ready to go just in case. "Sort of like "fabulous" but much more fabulous than the word "fabulous" can convey. Like supercalifragilisticexpialidocius but shorter and easier to spell." But, I digress…
What was I talking about? Oh yes, making the world a better place, one child's birthday at a time. Today's lucky kid was none other than one Poppy Day Wright. A cute and adorable wee little one, her smile is as infectious as that damn song that is still probably stuck in your head… She also happens to be the daughter of one Brooke Mayo, the famous wedding photographer, and John Wright, part owner of Sanctuary Vineyards. Totally no pressure on Hello My Sweet to not screw this up!
The festivities surrounding her second year of existence were to encompass elements from both Mother Nature, more specifically rainbows, and from the Hasbro classic board game Candy Land.
I do realize that both of those are obscenely obscure subjects. Luckily, for me anyway, a mash-up of rainbows and Candy Land went together much better than my last idea… nuts and gum! Alas, I cannot take credit for this awesome idea, but +1 internets to those of you who know what I'm talking about!
Fun times…
As with almost all of our endeavors we started a Pinterest board, which you can see here. I then set out to our local prop stores, and if you read our blog, by prop stores you know that I mean Dollar Tree and Wal-Mart. I know what you're thinking… But if we had a Jamali Garden, Crate & Barrel, or Hobby Lobby maybe I wouldn't have to aim so low. ***UPDATE*** Oh snap! Heather and I have found out that we do in fact have a Hobby Lobby in the Danville, VA area and that if it were possible to live in a department store, this would be our choice!
Any who, back to the board! Heather and I knew that there were specific elements that we wanted to incorporate. Heather wanted to do a ruffled crepe paper backdrop with puffy felt clouds and those ingenious rainbow colored pancakes. Oh did I mention that this was a breakfast-slash-dessert table? Oops, that would be my bad, as the kiddies say. Yep, so breakfast… Pancakes, eggs, grits (it IS the south after all), biscuits, bacon (Heather will NOT accept any job unless this is present in some way), a medley of fresh fruit, fruit dip, cupcakes and one smash cake for the birthday girl. Coffee for the 'ol timers, orange juice for the kiddies, with mimosas and Kahlua for everyone else rounding out the menu.
Photography by Brooke Mayo, www.brookemayo.com
For me the tough part was figuring out how to incorporate the Candy Land elements into the mix. Tough only in that I had totally forgot about that part of the theme. I was so engrossed in the rainbow aspect of it for some reason that I blocked out the candy. Once Heather snapped me out of it, I set to work coming up with an idea to translate the Candy Land board layout into the actual table, and figure out what to do with all these bags of candy that I had bought. On an outing to Toys-R-Us we found a rather large tube of gumballs that we just had to have, I mean who sees a 3 foot tube of gumballs and doesn't buy it up? Answer honestly now. We asked each other while in the checkout line what were we going to do with said gianormous gumball tube, and to be frank, I had absolutely no idea. But it was ours! MUAHAHAHAH! Sorry, I've had a lot of coffee today.
Photography by Brooke Mayo, www.brookemayo.com
Heather had come up with the winning idea of creating the "gumball tree", expanding upon the "Rolo tree" idea for our Peafowl Christmas table. We also incorporated some oversized candy elements as wall décor. We hot-glued two plastic plates together, bottom sides sticking out, and wrapped them up in clear cellophane wrap. We then cinched the ends with clear plastic zip ties, easy-peasy, instant and fun candy décor! We did almost the identical thing to balloons on top of thick white wooden dowels for imitation suckers. I even had a last minute stroke of genius concerning the candy decorations. I had taken our 4 tier glass cake stand, which had hollowed out center stands, and put various candies in each of the hollowed out areas and sealed with some clear packing tape. Here is a picture of it before any of the cupcakes were plated.
Photography by Brooke Mayo, www.brookemayo.com
We also had a blast sticking around the party and seeing the reactions of people who found out that on the back of their utensil packet that we handmade, were individual packets of salt & pepper. For the most part, people may not notice little details like this, but it doesn't mean you shouldn't do them. And if and when you do, someone will notice and will end up smiling…just ask Poppy.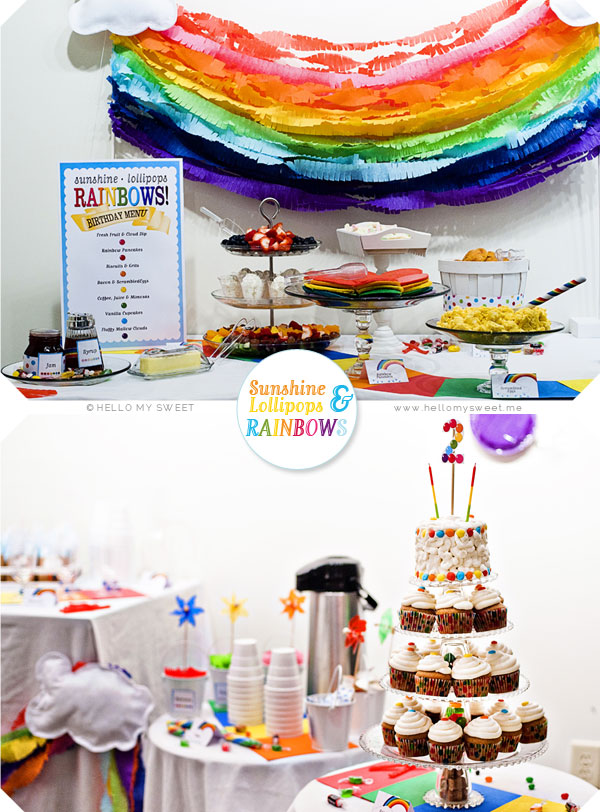 Photography by Brooke Mayo, www.brookemayo.com